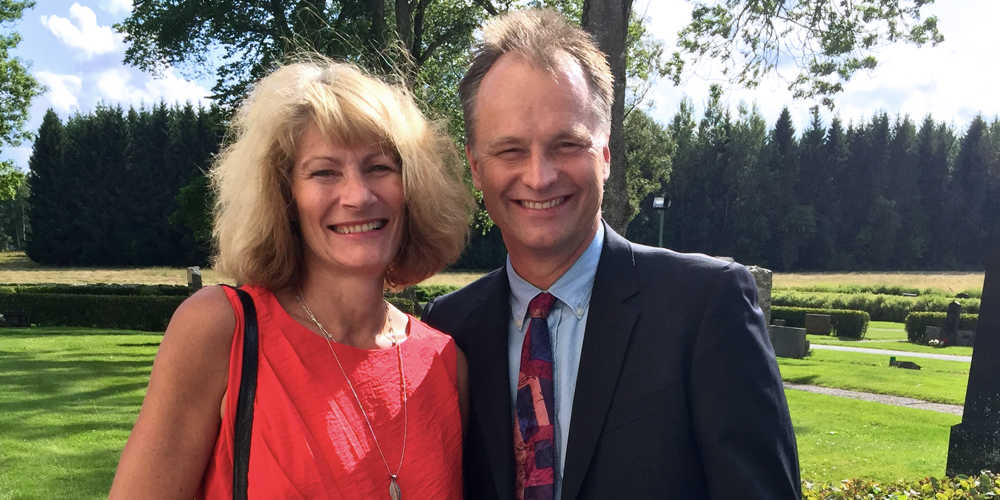 We who live and run Herresta Lada since 2012 are called Tord and Heléne. At our housewarming party in the summer of 2013, we surprised the guests by also getting married in the barn.
When we left Stockholm, we had long had a dream to try to live more rural sometime in our lives. When we first visited Herresta Lada, we knew immediately that we had ended up right - a scenic and soothing place, in the country but close to the city. As we are both dedicated entrepreneurs, we saw early on the potential to develop various businesses at Herresta.
We moved into the house at the end of October 2012 and already the first Advent we had our first Christmas market with shop, art exhibition and organic café in the barn. And that's the way it is!
Our goal with Herresta Lada is to create a place that is both beautiful, inspiring and relaxing to come to - both for us and our guests. We try our hand and constantly develop the business.
Vår also works as senior organizational consultants in Courage to Lead, with a focus on team and leadership development, see further www.modattleda.se. If the customer wants to be in an inspiring place, Herresta Lada is an excellent alternative to place activities on.
We are both passionate about creating good relationships not only in companies but also privately! That's why we run the company LoveLab AB, where we focus on the development of good habits in the love relationship, see further www.lovelab.se . Among other things, we are trained leaders in PREP - a preventive and practical communication course for couples. These weekend courses are held regularly at Herresta Lada.
Contact us for more info
or booking request
Helene: 0735-465610
Tord: 0702-011430
We offer five pleasant accommodation rooms and we turn to you as for example:
Want to be a tourist or visit someone in the area
Want to spend a weekend in the country
Want to play golf on one of the many golf courses available in the local area
Want to get away for a while in privacy
The minimum number of nights for weekend stays is two, with or without your own sheets and towel.
There is room for one or two people per room. The rooms include a large, shared bathroom, a fully equipped kitchen and a cozy living room. The nearest grocery store and center is in Märsta about 4 km south.
For those interested in golf, there are the following golf courses in the local area (within 25 km):
Additional attractive golf courses within 40 km are for example:
Take a look at what's going on at Herresta Lada