Date and time
Date: 2022-03-07
We start at 18:00, and end at 20:15
Join in for an entire garden year. First out: Start up!
Now is the opportunity for you to join us again during the growing year 2022! Together with our gardener Erika, we invite you to 4 great opportunities for inspiration and learning about basic kitchen gardening. The theme for each occasion follows the growing year and addresses what is constantly relevant.
Four times a year, with the following themes:
Starting up - Seed sowing and pre-cultivation - March 7
Out in the ground Seed care, retraining and transplanting - April 4
It grows - Continued care, watering and plant protection - June 13th
Handle - Harvest and storage and late sowing - 22 August
Erika will:
Practical show how to work with different elements during the growing year
Touch our most common kitchen plants from seed to harvest
Share smart methods, knowledge and experiences
Answer your questions
Each course includes:
E-mail before each course opportunity so you can be prepared for both the course and easily get started immediately after returning home
Two well-filled course hours
Coffee break with small cake
Opportunity to stay for your own questions - half an hour of individual question time after the course hours
E-mail after each course with extra information material
Comfortable setting and togetherness in a pleasant environment
What have previous participants appreciated about the course?
"Nice to get good answers to all the questions you have."
"Erika is so easy to listen to."
"Fun with so much inspiration!"
"Easy to get started and hold on to - a good holistic approach!"
"So good that the whole growing year was included."
For who?
For you who are a beginner or have some experience in cultivation and who are curious and want to further develop your knowledge. Everyone can participate, regardless of whether you have a villa garden, balcony, allotment or other space to cultivate.
Course leader
Erika Johansson, gardener and Herresta Lada's own garden coach. Since 2013, Erika has run the company Grenwerk Trädgård & Blomster, a versatile garden company that plans, builds and manages small and large gardens. Read more and feel free to follow her on Instagram and Facebook.
Where and when?
The course includes four courses of 2 course hours each and the following, individual question time:
- 18.00 - 20.15 incl coffee break with cake
- 20.15-20.45 subsequent question time for individual questions.
The meetings are held at Herresta Lada on Monday evenings, well distributed over the growing season. After 20.15, Erika is left for 30 minutes to be able to answer individual questions. The meetings are held both indoors and outdoors depending on the theme and season.
Before each occasion, you will receive a message about the upcoming theme so you have the opportunity to be prepared both for the course and to be able to easily get started immediately upon returning home. Between courses, you can email in your questions and we will address them at the next meeting. After each occasion, you will receive extra information material to take home linked to the current period during the growing year.
During the course evenings, Herresta Lada's café will be open and offer coffee, tea, sandwiches or some cake.
Price and registration
Price for all 4 occasions is SEK 1,900 including VAT.
Registration is via email to tord@herrestalada.com and confirmed after payment via Swish to 0702011430 (Tord Olsson). The last day to register is 10 days for the first meeting.
More information about the meetings
Below you can read about the main theme of each meeting.
Opportunity 1 - 7 March
Time to start cultivation! Seeding and pre-cultivation
Equipment needs / Planning cultivation areas / What cultivation conditions do you have?
Our most common kitchen plants / Seed sowing: methods and sowing times / Soil and nutrition
We look forward to retraining and continued care of our crops
Occasion 2 - 4 April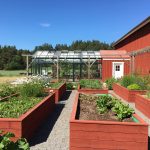 Out in the ground! - Preparations for retraining and planting
"Grow the soil": compost, bokashi, bio-coal, manure
Cultivation beds / Crop rotation
Softening / Planting / Direct sowing and batch sowing
Co-cultivation: what fits together and strengthens against attack?
Perennial, edible plants
We continue to look ahead with ongoing care
Occasion 3 - 13 June
It grows! Care, watering and plant protection
Irrigation / Fertilization and nutrition / Plant protection; vermin and weeds
Biodiversity - how do we apply it in the garden or on the balcony?
Harvest and so on!
Experiences, lessons learned, question time
Looking ahead with ongoing care during the summer
Opportunity 4 - 22 August
Handle! - Harvest and storage and late sowing
Harvest / Storage / Storage methods
Autumn use in cultivation
Collect your own seeds
Experiences and lessons learned during the year
Upcoming growing year 2023; foresight and further steps
If you have any questions, you are welcome to contact Tord.
Warm welcome!
Trädgårds-Erika with the Herresta team Tord & Heléne