Date and time
Date: 2021-08-13
We start at 18:00, and end at 21:30
August 13th the award-winning and certified grill master Per Ehrlund visits us at Herresta Lada. For a total of 3.5 hours, he guides us in the world of barbecue art; divided into cooking teams, we get to learn to work with different kinds of grills and with different ingredients on the grill.
Everything needed for the grilling is included and the ingredients are classy! We work outdoors or in tents. Finally, of course, we eat our freshly grilled delicacies together outside or inside the barn. Bring friends, your family, or entice with your work colleagues for an AW or team night together!
The barbecue course is included    
Guidance and training on different types of grills (Coal, electricity, LPG and pellets)
Ingredients for grilling 3 different dishes, fish, vegan, meat, sauces and accessories
Lecture, instructions and support for the barbecue
Joint closing dinner
Space for questions
Recipe booklet
Personal diploma
Own barbecue apron to take home
Fun prizes linked to simpler competition elements during grilling
Where and when?
Friday 13 August at 18.00 - 21.30 here at Herresta Lada in the open air or in tents, depending on the weather.
What does it cost?
The price is SEK 1,295 per person. If 5 people go together in a single registration, the total price is SEK 5,500.
Prices include VAT for private individuals, excluding VAT for companies.
How do I register?
Registration is via email to tord@herrestalada.com . Also state any allergies or dietary requirements. Payment instructions come with the booking confirmation. You can cancel no later than 14 days before the barbecue course, after which your registration is binding.
If you have any questions, please contact us at: tord@herrestalada.com, 070-201 14 30.
Briefly about Grillmästaren Per - no sharper barbecue master can be found!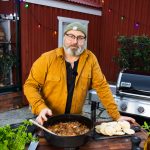 Per Ehrlund is a certified and professional grill master. He has long been the grill company Weber's hired expert when it comes to holding barbecue courses around the country for companies and private companies. Per is considered one of Sweden's best and most experienced grills. He has won several awards and also published 2 books on grilling, "Grill for real" and "Grill more". The books will be for sale during the course at a favorable price. In the autumn of 2020, the cooking channel played godare.se in a total of 10 barbecue sections with Per here at Herresta Lada. See how to make a smash burger with cheddar cheese, pickled red onions, mild onion rings and pickles HERE!
A warm welcome to a fun, tasteful and educational whole evening in the company of good friends!
Per & Herresta team Tord & Heléne