Date and time
Date: 2022-10-27
We start at 18:00, and end at 20:00
Learn how to decorate Halloween cupcakes!
Welcome Thursday, October 27th for a learning and playful moment to decorate enticing and delicious cupcakes - this occasion with the theme Halloween. Under the guidance of Annika at Ankans Tårtverkstad, we decorate Halloween cupcakes together in different types of designs. We sprinkle, make decor in sugar paste, work with colors, sprinkles etc. The actual basic baking of muffins has already been prepared by Annika, so we only make the fun decoration when we meet, but of course you get with all the recipes.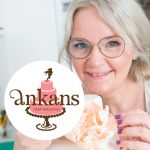 Annika is a new guest for us at Herresta but an experienced and appreciated cake artist with a focus on both the inviting beauty and the really good. The usefulness can possibly be questioned but certainly not the taste experience 😊. Read more about Annika below.
Everything needed for baking is included. The idea is, of course, that you take your creations home to bid on during the Halloween celebration, if you can stay of course! So warmly welcome to sign up! And - if you know others who may be interested, you are welcome to spread this further.
The course includes:   
Guidance and instructions for creating all the decor yourself
All the raw materials and equipment needed, as well as aprons
Practical and beautiful packaging to take home what you baked
Space for questions
Recipe booklet to take home
Nice togetherness in a wonderful environment
Date and place:
Thursday 27 October at 18.00 - 20.00 at Herresta Lada in Odensala. Directions can be found on Google Maps, "Herresta Lada".
Award:
SEK 495 / person incl. VAT.
How do I register?
You register by emailing tord@herrestalada.com. You can cancel no later than 14 days before, after which your registration is binding. Your registration is confirmed when you have swished the course fee to 0702011430 (Tord Olsson).
NOTE! The number of participants is limited to 25 with an age limit of 12 years.
If you have any questions, please contact us by e-mail or by phone as above.
Warm welcome!
Tårt-Annika & Herresta team Tord & Heléne 😊
PS. In the spring, a cake baking course of about 3 hours will also be held here in the barn together with Annika where we decorate beautiful cakes for parties and celebrations, date 16 February. Curious? Pre-register your interest to the email address above.
About the confectioner Annika and Ankans Tårtverkstad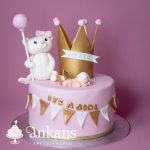 Annika has run her company Ankans Tårtverkstad for almost 10 years with a focus on decorated cakes, everything from children's parties to large beautiful wedding cakes. It all started with a wish for a Hello Kitty cake for the daughter who turned three. Then it did not take many years before she worked full time with her dream. Preferably, she munches on a carrot cake if she gets to choose. Annika is based in Bredden in Upplands Väsby, where she has had her own bakery and shop in new and fresh premises since December 2021. Why not look in one day, or read more on the website: www.ankans.se Instagram: @ankanstartverkstad.