Date and time
Date: 2022-11-24
We start at 18:00, and end at 20:00
An evening where you can relax and enjoy vibrant and powerful gong play!
The 24th of November we are visited again by Mattias Sundman. He has long been an experienced instructor in yoga, meditation and specifically relaxation via gong games, so-called "gong bath" with vibrations from a 1 meter large Gong-Gong !!
The evening begins with softening and warming your body with a few simple exercises, before we move on to the gong game. It happens under felt at rest. The waves of sound from the Gong are like an inner massage, it affects the mind so you can end up in a state between sleep and wakefulness which really calms the mind. This, together with the gong's vibrations, which enter the body, helps the body's self-healing ability to dissolve tension and stress. After a Gongpass, you normally feel relaxed and can grab things with new energy and creativity! With this behind you, you will be replenished both physically and emotionally. No experience or special conditions are required to participate. The passport will, if the weather permits, be kept outdoors.
During the evening:
• Introduction, guidance and support from Mattias
• Borrow a yoga mat to lie on
• Initial relaxation with a few simple yoga exercises
• Relaxing meditation during the sound of the gong games
• A test session if you want to stay and integrate the experience into you, after the session
• Comfortable setting and togetherness in a pleasant rural environment
Take with you:
• Soft clothes
• Possibly own blanket
• Water bottle
Date, time and place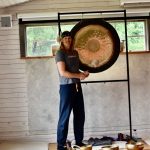 Thursday 24 November Gong pass at 18.00 – 20.00, then tea time afterwards for those who want. The event takes place at Herresta Lada in Odensala. For directions, see Google Maps "Herresta Lada".
Price and registration
You pay SEK 495 including VAT. NOTE! The number of participants is limited to 20 people. If you want to be sure of a place, sign up well in advance, as we had fully booked at the last opportunity in June.
Take the opportunity to invite good friends, relatives or others you think may be interested.
We need to receive your registration no later than 25 September. Registration can easily be done via email to tord@herrestalada.com. You then confirm your registration by swishing in the current amount to 0702011430 (Tord Olsson).
A warm welcome to experience a "gong bath" with an open and curious mind!
Gong-Mattias with the Herresta team Tord & Heléne
More about Mattias
Mattias Sundman is a trained Gong Master and Yoga teacher and has played Gong for over 7 years. He holds regular corporate events and various classes throughout Stockholm. He is also often involved in various events, festivals and also holds trainings. Mattias loves to share his passion with Gongen and always plays from the heart and for world peace. Read more about him at: http://www.feelthevibes.se