Date and time
Date: 2021-09-10
We start at 17:30, and end at 23:00
International cultural evenings at Herresta Lada
- First out: Japanese cooking and culture
The Japanese culture is the first in a new theme series here at Herresta barn. This evening is filled with Japanese cooking with tastings and Japanese drinks. We will also watch short film sequences and reflect on the community culture in Japan.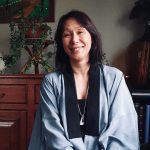 Taeko Östergren who lives in the municipality but has roots in Japanese culture will guide us during the evening. Together we will prepare a tapas-like meal with several dishes and when it is time for tasting, Japanese beer will be served. During the evening, Taeko will also talk about Japanese culture and its traditions.
During the evening we offer:
• Raw materials for all foods
• Guidance and support from Taeko during cooking
• Copies of all recipes to take home
• Screenings of film sequences and input on cultural and value differences, with subsequent conversations
• Comfortable togetherness in a pleasant environment
Date, time and place
Friday, September 10 at 17.30 we start, approx. 19.30 we sit down to taste what we have cooked and then we sit down to watch Japanese film sequences. After that, it is possible to stay for talks and reflections until no later than 23.00. The event takes place with us at Herresta Lada.
Price and registration
You pay SEK 395 for the entire package. If you want to be sure of a place, you need to be quick with your registration, as the number of participants is limited to 16 people. We assume that this is possible from a pandemic point of view, but we of course closely follow the authorities' current restrictions. If this is not possible, you will of course get all the money back, or you will remain as a participant if the new date suits you.
Take the opportunity to bring good friends, family members or relatives you have not had time to meet during the pandemic to see and have fun together in the cooking team. Or maybe invite your team to work. A warm welcome with an open and curious mind to taste another exciting world culture.
We need to receive your registration no later than 5 September. Registration can easily be made to Tord via email HERE. You then confirm your registration by swishing in the current amount to 0702011430 (Tord Olsson).

Warm welcome!
Taeko with the Herresta team Tord & Heléne